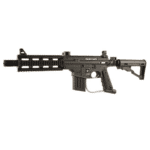 Tippmann Sierra One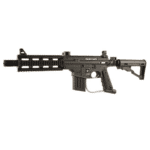 Tippmann Sierra One
R4,250.00
R4,250.00
Description
The Tippmann Sierra One is herean exciting new marker from Tippmann Paintball featuring a six position collapsible and foldable stock, an AR15 style shroud with four built-in Picatinny rails and a new AR15 style magazine that doubles as a helpful toolkit. The marker also incorporates a flat-top Picatinny rail built into the receiver, which makes it simple for players to quickly add a handle, site, scope or a variety of other modifications. As an added benefit, the Sierra One marker can be easily enhanced with an eGrip as well as several other performance upgrades from the Tippmann 98 Custom Platinum Series, including the Cyclone Feed System, Response Trigger and Flatline barrel. As with other U.S. Army Paintball markers, Sierra One also comes with a training manual that offers helpful advice regarding paintball strategy and teamwork.

Much like Alpha Black, the name selected for this new marker is rooted in U.S. military history. Sierra One was a series of tests conducted by the U.S. Armys Operations Research Office (ORO) from the mid to late 1950s. The research obtained through Sierra One helped lead to the development of the AR15, which would go on to become the M16 widely considered among the most respected and proven rifles ever utilized by the United States armed forces.

Features:
Officially licensed product of the US Army
All aluminum die cast receiver
11 inch Quick Thread barrel (Tippmann 98 threads)
AR style barrel shroud with four picatinny rails
Picatinny flattop rail
AR style collapsible and folding stock
Stainless steel gas line
Proven high performance in-line bolt system
Compatible with 98 Custom Series Response Trigger Kit and 98 Platinum Series Flatline Barrel
Compatible with Alpha Black Egrip Kit and Cyclone Feed Upgrade Kit
Removable and adjustable front and rear sights
Front sling mount
Sub 3 pound trigger pull
Maintenance pack includes allen wrench set, spare tank o-ring, lubricant, cleaning cable and approved barrel plug.