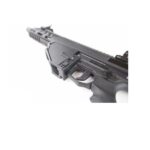 Milsig / Valken M17A2
Milsig / Valken M17A2
R7,950.00
R7,950.00
Description
Now Distributed in the US by Valken.
In early 2014 MILSIG released the M17 CQC and took the new MagFed market by storm. The M17 CQC quickly became the most popular gun in MagFed, to the point where MagFed and MILSIG became synonymous.
MILSIG is proud to introduce its new M17 A2. Utilizing the same polymer encased steel construction of its predecessor, the M17 A2 is an improved version of the same multi-role phenomenon the CQC became. Marksman and FSR, Close Quarter Combat and paintballs, or any role in between, the M17 has served them all with distinction.
The M17 A2 runs on a fully mechanical and internally regulated blow forward system called the HeatCore. The HeatCore has made its name with its extreme ease of maintenance, reliability, and unmatched consistency. While the HEAT Core is best known for its mechanical Full Auto function, its superb +/- fps consistency over the chronograph has won over many long-range shooters where stable velocities are a must for accurate shooting.
The M17 A2 features MILSIGs new breech system which has been lengthened and widened to create an extremely stable feed path for today's shaped projectiles. The M17 A2 accepts all current Square Head magazines from MILSIG plus the dozens of accessories available for previous models.
The M17 A2 makes use of its predecessor's updates and brings more features to the M17 platform:
Polymer formula updated (Twice in 2014)
Steel reinforced grip frame (2015)
Steel reinforced latching post for BRH (2015)
Safe updated with Sear Pawl and Selector Switch Cam to block Sear (2015)
Bolt updated (several times) (2014, 15, 16)
Tighter bore barrel (2015)
Ambidextrous safety (2015)
BRH Plug (2016)
Integrated Top Rail (2017)
New MagWell with an extra cross bolt to prevent rocking (2017)
New Enlarged Breech for better FSR feeding (2017)
Specifications:
Length: 27″
Weight: 5.0 lbs
Polymer composite encased steel construction
2 pin field strip takedown
Mechanical Full Auto
Interchangeable AR-15 style grip
AR-15 style bolt reset handle
Fire selector switch/safety
Ambidextrous magazine release
Package includes:
M17 A2 Marker
Barrel Plug
20 Round Squarehead Magazine
MATS 13ci compatible buttstock (13ci Tank NOT Included)
Polymer sights
Polymer CQC shroud
190mm Smoothbore Bull Barrel
There are no reviews yet.